Welcome to our roundup of news and current events related to ethics and international affairs! Here's some of what we've been reading this past month: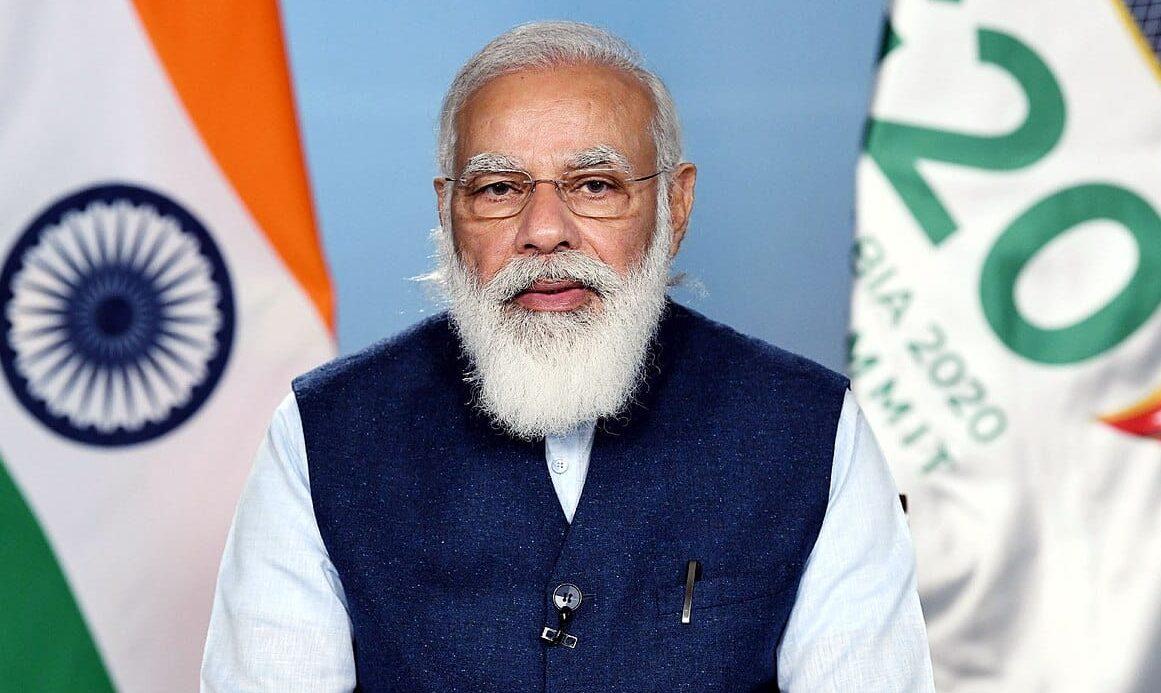 The Prime Minister of India, Narendra Modi. Photo Credit: Press Information Bureau on behalf of Prime Minister's Office, Government of India via Wikimedia Commons
NPR: As G-20 ministers gather in Delhi, Ukraine may dominate — despite India's own agenda
The yearly G-20 Summit is taking place in India, with Indian Prime Minister, Narendra Modi, positioning it as his party's own personal success. While it was India's turn to host the Summit, Modi is aiming to show how India can represent issues affecting India and the Global South, particularly food shortages and prices. If successful, it could give his party a boost in the upcoming elections. However, the Russo-Ukrainian War is most likely to top the agenda, as in the last G-20 summit, when Russian delegates walked out over the West's condemnation of the war. Moreover, as India continues to buy Russian oil and weapons, it benefits Modi if the topics covered at G-20 do not pertain to the war. However, other G-20 participants argue that the war is responsible for the greater food insecurity the world is facing, and thus, a relevant agenda item.
Read more about India, the changing world order, and the global food system in Ethics & International Affairs:
India and the International Order: Accommodation and Adjustment (2018: 32-1)
The Myth of the "Civilization State": Rising Powers and the Cultural Challenge to World Order (2020: 34-2)
Introduction: Ethics and the Future of the Global Food System (2021: 35-1)
---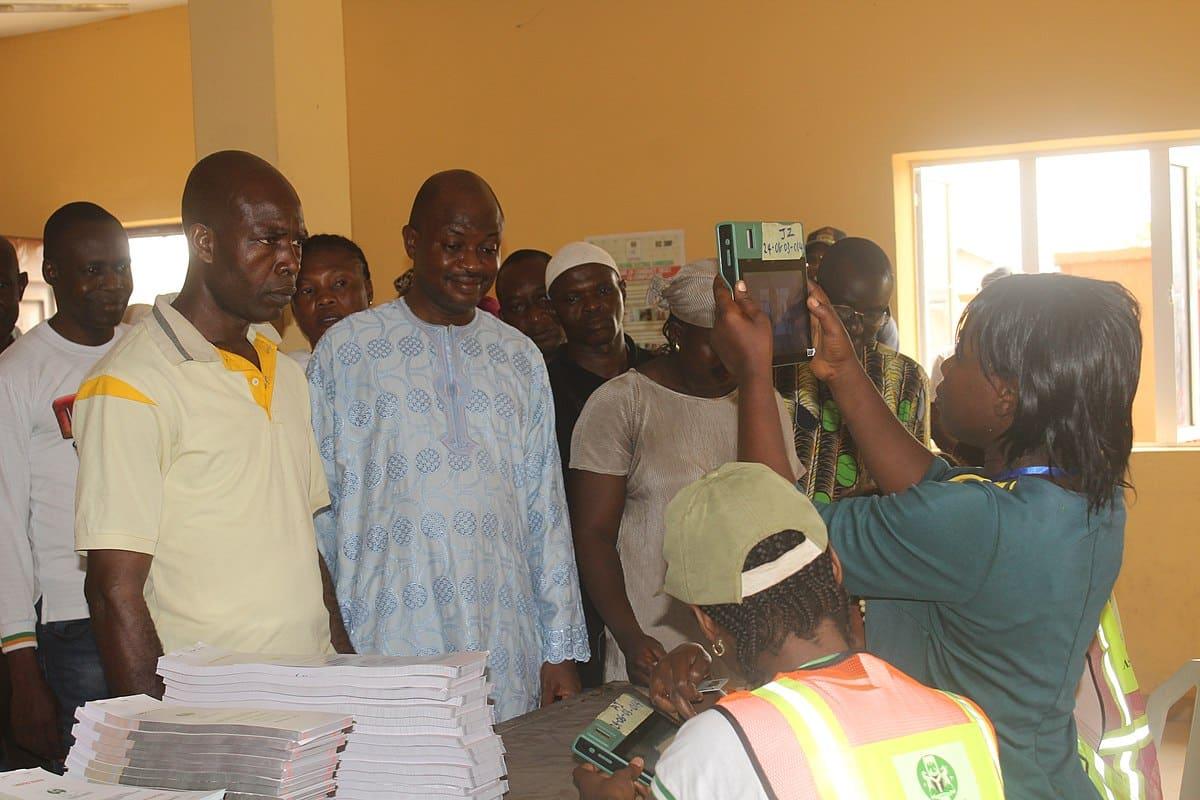 Checking voter identification in Nigeria during the elections. Photo credit: Yemi Festus via Wikimedia Commons
DW: Nigeria's election results leave country more divided
Bola Tinubu has won Nigeria's latest presidential elections, beating out his two competitors, Atiku Abubakar and Peter Obi. Obi was a latecomer to the elections and managed to spark the interest of youth voters as well as win Tinubu's own region, Lagos. Nigeria began having regular elections in 1999, and the vote distribution between the three candidates shows deep societal divisions in terms of religion, ethnicity, and social sentiments. There have also been allegations of electoral fraud coming from Obi's Labor Party that have been backed by international observers, such as the European Union, who cited major logistical problems. Moreover, voter turnout was the lowest in history, at 29 percent. Between this and the small margin that led to Tinubu's victory, the new president must work toward uniting the country across these divisions.
Read more about democracy, the rural-urban divide, and constitutionalism in Ethics & International Affairs:
Parties, Democracy, and the Ideal of Anti-factionalism: Past Anxieties and Present Challenges (2022: 36-4)
The "Era of the City" as an Emerging Challenge to Liberal Constitutional Democracy (2022: 36-4)
Healing Liberal Democracies: The Role of Restorative Constitutionalism (2022: 36-4)
---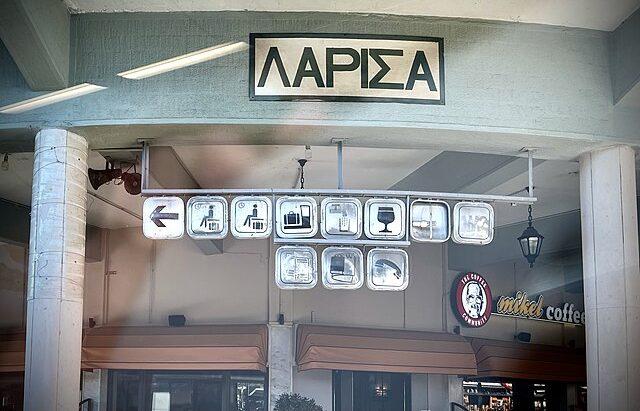 The Larissa train station in Greece, where the collision occurred nearby. Photo credit: Sharon Hahn Darlin via Wikimedia Commons
The Washington Post: Train collision in Greece kills at least 43; station master arrested
Late Tuesday, a passenger train traveling from Athens to Thessaloniki collided with an oncoming cargo train in Greece. At least forty-three people have died, and many others have been injured. Many on the train were students returning to their studies after a weekend celebrating a carnival holiday. The station manager and the Transportation Minister, Kostas Karamanlis, have resigned from their posts. The station master was arrested for "causing mass deaths through negligence" and "causing grievous bodily harm through negligence." The accident seems to have been caused through human error when the station master failed to divert the two trains or see they were on a collision course. On Wednesday, protests erupted outside the Hellenic Train headquarters before moving to Parliament. Out of all the EU countries, Greece has the highest number of railway fatalities.
Read more about basic development goals, taking care of future generations, and exposing problems in a system in Ethics & International Affairs:
From Sustainable Development Goals to Basic Development Goals (2020: 34-2)
On the Scope of Institutions for Future Generations: Defending an Expansive Global Constitutional Convention That Protects against Squandering Generations (2022: 36-2)
Why Would I Be a Whistleblower? (2020: 34-1)
---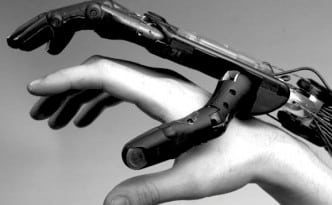 Photo credit: Shadow Robot Company via Wikimedia Commons
The Guardian: Human augmentation with robotic body parts is at hand, say scientists
Imagine needing an extra hand around the kitchen or during surgery. Scientists at Cambridge University have been experimenting with motor augmentation, or the addition of certain body parts to the human body. For instance, Dani Clode has already designed and created a 3D-printed thumb that a person can attach to their hand. Human augmentation is not meant to replace a body part but improve existing abilities. The created thumb, for instance, is triggered by remote sensors placed by the user's toe. Most of all, scientists do not want to jeopardize other functions of the body with human augmentation. Therefore, researchers are now trying to see if the additional thumb will affect how a toe functions. While some laboratories are examining how these devices could be connected to the spinal cord or brain, Tamar Makin, a professor of cognitive neuroscience at the MRC cognition and brain unit at Cambridge University, argued there was no ethical justification for such an invasive procedure on a healthy human body.
Read more about the impact of AI on human rights, technology, and what it is to be human in Ethics & International Affairs:
The Future Impact of Artificial Intelligence on Humans and Human Rights (2019: 33-2)
Some Brief Reflections on Digital Technologies and Economic Development (2019: 33-2)
Humor, Ethics, and Dignity: Being Human in the Age of Artificial Intelligence (2019: 33-1)