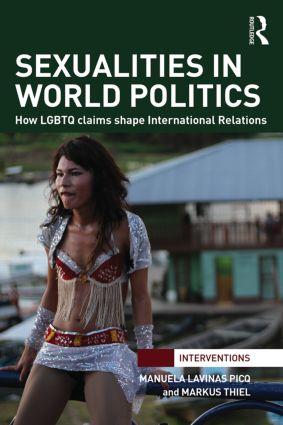 Sexualities in World Politics: How LGBTQ Claims Shape International Relations, Manuela Lavinas Picq and Markus Thiel, eds. (London: Routledge, 2015), 178 pp.,
$145 cloth, $44.95 paper.
doi:10.1017/S0892679416000186
As states mobilize popular sentiment, diplomatic pressure, and foreign aid over the rights of lesbian, gay, bisexual, transgender, and queer (LGBTQ) persons, it is no longer tenable to argue that LGBTQ issues are inconsequential in global affairs. The introduction of anti-gay legislation in Uganda and Nigeria; propaganda laws emerging in Russia and Eastern Europe; and the deeper engagement of the United Nations and other global bodies with LGBTQ rights have each had ripple effects, with states increasingly taking vocal stances in favor of or against LGBTQ people and their rights and incorporating these stances into their national self-definition and foreign policy.
The essays in Sexualities inWorld Politics seize upon the importance of this trend, and argue that LGBTQ perspectives are deeply enriching for international relations theory. In the service of their claims, the authors offer a sophisticated collection of empirical and theoretical arguments about what these perspectives mean for the discipline and practice of international relations, including such foundational concepts as the state, human rights, and modernity.
One of the strengths of the volume is its attentiveness to the myriad ways LGBTQ issues have been taken up by states, both nationally and internationally, in the service of diverse agendas. For example, the ways LGBTQ rights are negotiated and formalized (or not) in supranational forums is given especially careful attention by Francine D'Amico and Markus Thiel in their chapters on the fate of LGBTQ claims before the United Nations and the European Union, respectively. Mehmet Sinan Birdal's chapter on LGBTQ rights in Turkey offers a particularly vivid account of how LGBTQ visibility exposes the exclusionary tendencies of the ruling party's populism and creates new possibilities for pluralist, anti-hegemonic alternatives fueled by allied social movements.
Some of the contributors investigate what the treatment of LGBT claims might reveal about the operation of states and the international system. Michael Bosia, for example, uses state responses to LGBT rights claims to engage in a sharp and powerful critique of the state. Bosia casts the state as a psychopath, indifferent to sexual politics except insofar as it serves the state's needs. At other times, the contributors use queer theory to shed light on international relations theory. The utility of this approach is most convincingly illustrated by Anthony Langlois, who demonstrates how influential concepts in queer theory—such as performativity, positionality, and queer liberalism—as well as the perils of being caught up in the state's nationalist projects when seeking rights can expose the tensions and pitfalls of human rights advocacy in contemporary times.
Although Sexualities in World Politics illustrates that LGBTQ perspectives matter, the essays do not lend themselves to any singular summation of what an LGBT or queer "lens" on international relations might make visible. In part, this is because the conjunction of LGBT perspectives and queer perspectives in the volume intertwines two strands of thought and political practice that are deeply linked but distinctive in important ways. LGBT claims are often claims for recognition and inclusion in the institutions and practices that structure our world; queer claims, meanwhile, have primarily sought to unsettle what is taken for granted, rendering the strange familiar and the familiar strange.
Focusing on LGBT perspectives might illuminate how the assumptions of state policy neglect, exclude, or endanger those who are not straight and cisgender, just as focusing on women's perspectives underscores the danger of sexist assumptions in state policy. Focusing on queer perspectives, by contrast, generates structural critiques akin to those that feminist and poststructuralist scholars have made—for example, by challenging IR's preoccupation with state action or its reliance on the fictive notion of public and private spheres.
As Laura Sjoberg notes in her essay, which concludes the volume, the insights generated by LGBTQ perspectives affirm the importance of similar insights that women's rights and feminist perspectives have brought to the discipline of IR, but also add something unique. For IR theory to say something accurate and meaningful about the world in which we live, it cannot afford to overlook LGBTQ perspectives any more than it can afford to overlook those of other groups who affect and are affected by geopolitics.
In a discipline too often characterized by grand theories, the emphasis on grounded perspectives in Sexualities in World Politics is among the book's strengths. The volume convincingly demonstrates that LGBTQ perspectives generate perceptive and often surprising insights about how national and international institutions are structured and operate, and it powerfully shows the value of questioning such conventions as the core-periphery binary, the dichotomy between case studies and theory, and taken-for-granted theories about the state. As the rights of LGBTQ people increasingly take hold as foreign policy concerns and topics of geopolitical contestation, these perspectives are long overdue for serious consideration by IR theorists.
Ryan Thoreson is a Scholar in Residence at the Center for LGBTQ Studies at the Graduate Centerof the City University of New York.